Seeing Red At The Providore
This Chinese New Year, The Providore is serving up a selection of yummy gourmet items and homeware. From teapots in just the right shade of red without looking gaudy to artisanal drinks, make a pitstop at The Providore's Level 2 outlet at Mandarin Gallery to stock up for the festive season.
Buy them on their own or as a set – hampers go for $140 – or you also stand a chance to win hampers when you sign up for The Providore's newsletter!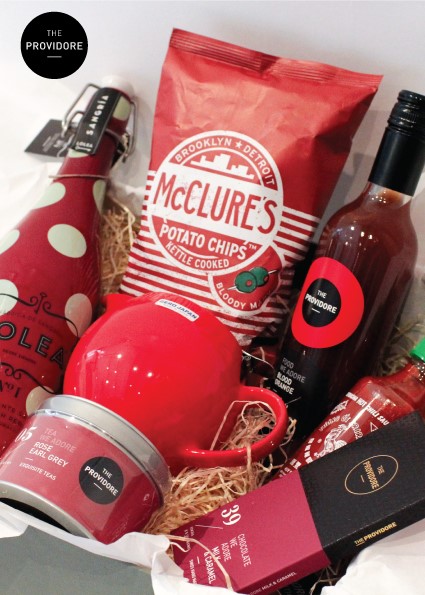 1. Lolea Sangria Sparkling Red $37
An artisanal sangria made with high quality Tempranillo and Cabernet Sauvignon red wines, fresh orange and lemon juice, and a touch of cinnamon. This sparkling drink is the perfect bubbly for celebrations.
2. The Providore Blood Orange & Cardamom Cordial $15.50
Made with blood orange juice & roasted green cardamom pods, the cordial is a classic combination of cardamom and orange with the added depth of flavour from the blood orange juice. Great as a base for mocktails and cocktails, or simply mixed with sparkling water as a refreshing citrus drink.
3. The Providore Rose Earl Grey tea $21.50
Taking centre stage in the bouquet of its mysterious black tea base is a carefully selected Keemun species, expertly processed and smoked to deliver an intriguingly rounded note. Scented with rose petals and primrose oils, which add softness to the edgy notes of its black tea base.
4. The Providore Milk and Caramel Chocolate $15.90
One of The Providore's more popular flavours, the two bars within the pack are made from the finest Trinitario cocoa beans selected from organic fair trade cocoa plantations. The chocolate is combined with Swiss milk and flecked with pieces of creamy caramel to produce a rich and decadent treat.
5. McClure's Kettle Cooked Bloody Mary Chips $4.75
If you ever wondered what it would be like to eat a Bloody Mary – wonder no more. With the signature tangy notes of the drink, and spiced with dill, garlic and black pepper, the Kettle Cooked Bloody Mary Chips are a perfect snack for any celebratory occasion.
6. Zero Japan Cherry Red teapot 450cc $35.50
Zero Japan teapots are part of The Providore's signature tea ware range. The Cherry red variation makes the perfect centrepiece for Chinese New Year – try brewing some of The Providore's signature tea blends for a refreshing cup of tea amidst all the festive indulgence.