Love at First Bite: The Best Desserts for Date Night
What is a date night if it isn't anything but sweet? End your night on a delectably sweet note with desserts like the Strawberry English Trifle, Matcha Cheesecake and Crispy Mascarpone Filled Biscuits just to name a few. Read on to get your fill of the best mouthwatering treats from Mandarin Gallery and Downtown Gallery to inspire your next date.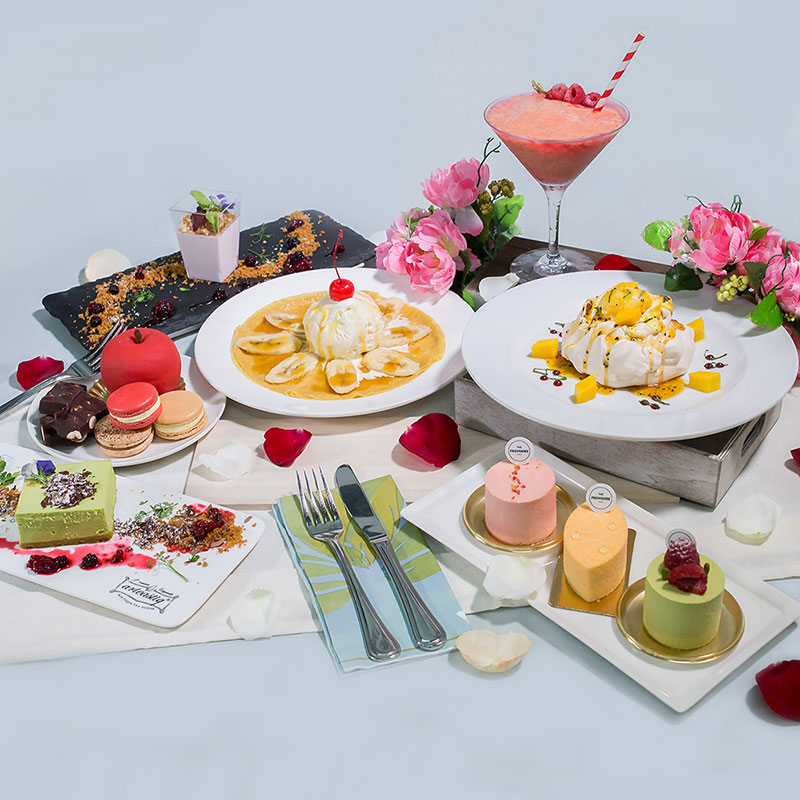 1. Layered Chocolate Pancakes
There's no reason you can't do breakfast dates, and Wild Honey spares no expense when it comes to decadent breakfast foods, starting with gorgeous fluffy chocolate pancakes. These chocolate pancakes are layered between buttermilk pancakes with salted caramel sauce and topped off with salted caramel ice cream. With an added layer of the freshest berries and berry sauce, be rid of the guilt you're harboring and seek comfort in the nutritional benefits – however little they may be.
2. Crispy Sponge Mascarpone Filled Biscuits
If you're having afternoon tea, Wild Honey's crispy sponge biscuit with ice cold mascarpone cream and home-made raspberry preserve is a great option. At just the perfect balance of light and sweet, this afternoon tea treat goes exceptionally well with a pot of pure leafed tea.
Wild Honey is located at Mandarin Gallery, #03-01

3. Superlova
The Superlova entices you just by its lovely shade of crimson itself. The artistically designed treat is a combination of rose petal mousse, rose finger sponge, yuzu cream, raspberry jelly, lychee, rose petal glaze, rose coral sponge, rose petal meringue and raspberry caviar. Topping it all off is a fun layer of rose macaron, raspberry crumble and raspberry marshmallow. The indulgence of all shades of pink could overload your senses but instead, it leaves a light and flavorful aftertaste.
4. Café Blanc Caramel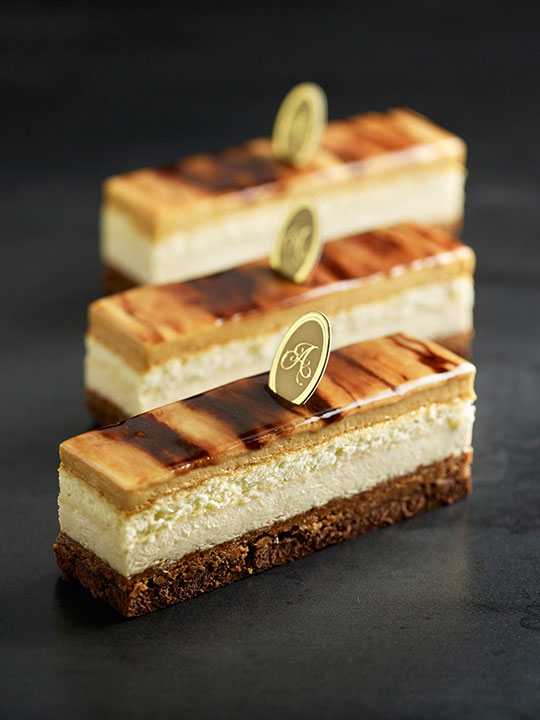 Sculpted like a masterpiece, the Café Blanc Caramel dazzles with chocolate swirls on layers of cocoa sponge cake, praline feuilletine, caramel parfait and white chocolate mousse infused with a delicate layer of coffee bean.
Antoinette is located at Mandarin Gallery, #02-33 / 34

5. Matcha Cheesecake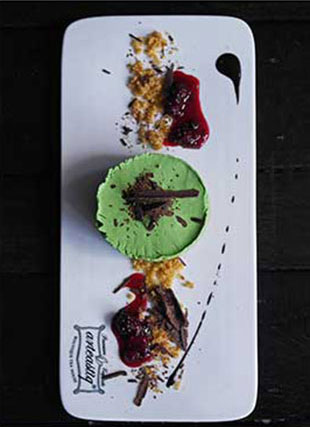 Arteastiq is dedicated to serving more than just treats on a platter, they tease your senses and tantalize your taste buds with their exquisite eye for detail. Stranger's Poetry – a sizzling combination of art and dessert vies for your attention with its intricate detailing and positioning on a white canvas. The Matcha Cheesecake exceeds expectations with its sweet and delicate flavor that goes perfectly with berry compote and cookie crumbs.
6. Lavender Panna Cotta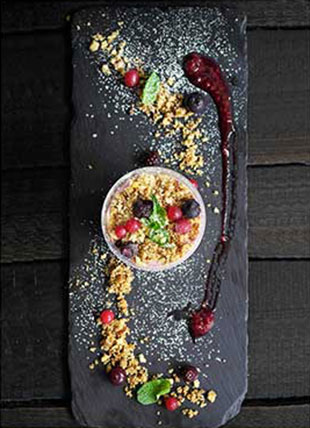 With art in mind, Contentment – Lavender Panna Cotta delights your senses with its fun assortment of colors. The panna cotta is infused with homemade lavender tea, served with mixed berries and popping candy. It's more than a treat for your taste buds with its eye-catching detailing of cookie crumbs that tastefully trail the length of the canvas.
Arteastiq is located at Mandarin Gallery, #04-14 / 15

7. Strawberry English Trifle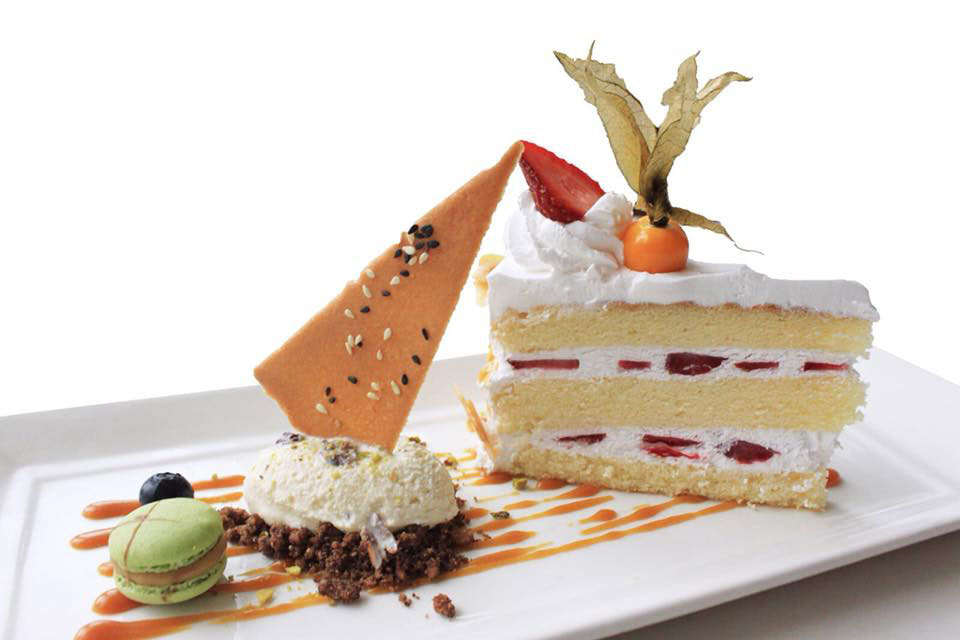 When you think of Lawry's, you immediately think - ribs galore. Their reputation precedes them with a carefully put together dessert menu that is sure to tickle your senses. Dive into one of Lawry's crowd favorite item on the menu – the Strawberry English Trifle. The multiple layers of sponge cake are laced with rum, sherry, vanilla custard cream, strawberries and fresh whipped cream served with a generous portion of Haagen-Dazs Macadamia Nut Ice-Cream.
Lawry's The Prime Rib is located at Mandarin Gallery, #04-01 / 31

8. Freshe-ly Squeezed Fruit Juice
If you're looking for a tea-time snack to tide over the peckish pangs, consider picking up a bottle of freshe-ly squeezed fruit juice from Freshe. With the option of their original fruit juice recipes or the "MIX YOUR OWN JUICE" concept where you can design your own juice for your body's needs, there's a juice or smoothie for everyone.
Freshe is located at Downtown Gallery, #03-30

9. Frozen Yogurt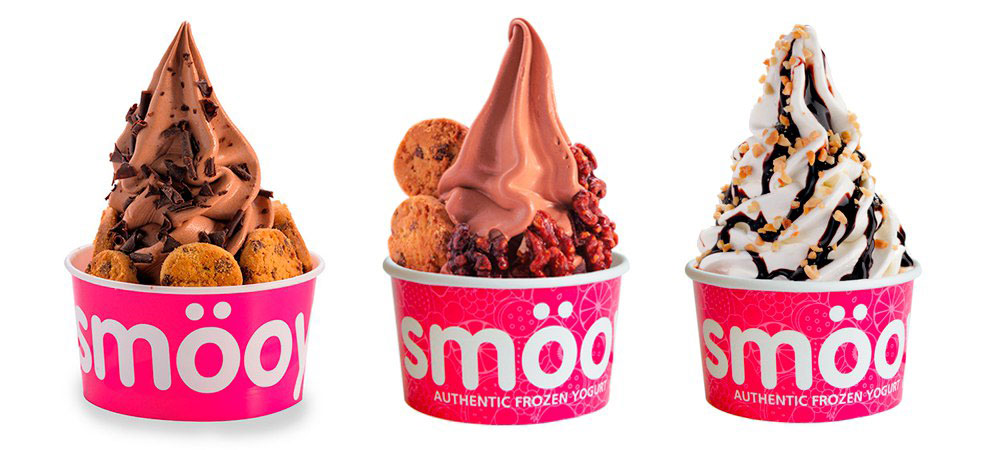 Everyone loves an ice cold sweet treat for dessert. For something that achieves both that feeling of comfort from a scoop of chocolate toppings and the desire to keep our diet clean, head to Smooy. The Spanish-based frozen yogurt brand has arrived at Downtown Gallery, bringing its low fat, high fiber and gluten free dessert to the heart of the CBD. Simply pick the size, flavour and toppings of your choice and you have yourself a cup of DIY frozen yogurt. With an ever-changing flavour of the week, you'll always have new options and combinations to try!
Smooy is located at Downtown Gallery, #03-28

10. Smoothies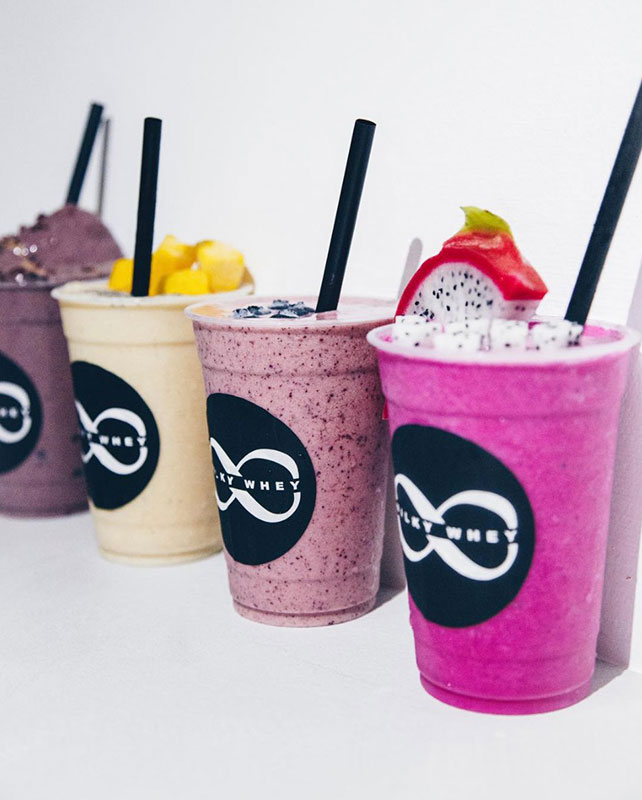 If you're looking for more superfood-y dessert, we know the whey. Milky Whey's smoothies and acai bowls are made with super fruits used as base, with absolutely no processed sugar or flavouring or preservatives added. They aren't only power packed with nutrients and protein to make you feel amazing, they look amazing and of course, are designed to supplement your fitness and health.
Milky Whey is located at Downtown Gallery, #03-31