#GalleryCurator Interview:
Melissa Celestine Koh
One of the top influencers in Singapore, Melissa Celestine Koh counts more than 182,000 fans who hang onto her every word – or beautiful photos of her fashion inspirations, travelogue, food escapades and #OOTDs – on Instagram. The style star is also no stranger to the local fashion scene with her own label, Run After, available at What Women Wants at Mandarin Gallery.

We managed to sit down with Melissa on one of her visits to Mandarin Gallery for a rapid-fire round of questions and answers to find out more about the quirks and irks of the travel and lifestyle creative:
Favourite designer and why?
Dior because it is classic and feminine and it truly represents my style.
I cannot step out of the house without my…
My phone!
Any food hacks for beauty?
I don't think there is one particular food but I think staying hydrated is very important and I drink a lot of coconut water.
A makeup essential that I can't live without.
Eye brows pencils. I am comfortable going out bare face but having nice brows help to frame the face.
Lipstick or lip gloss?
Lipstick.
What is your current beauty obsession?
I started experimenting with contouring and I never realised how much difference it could make.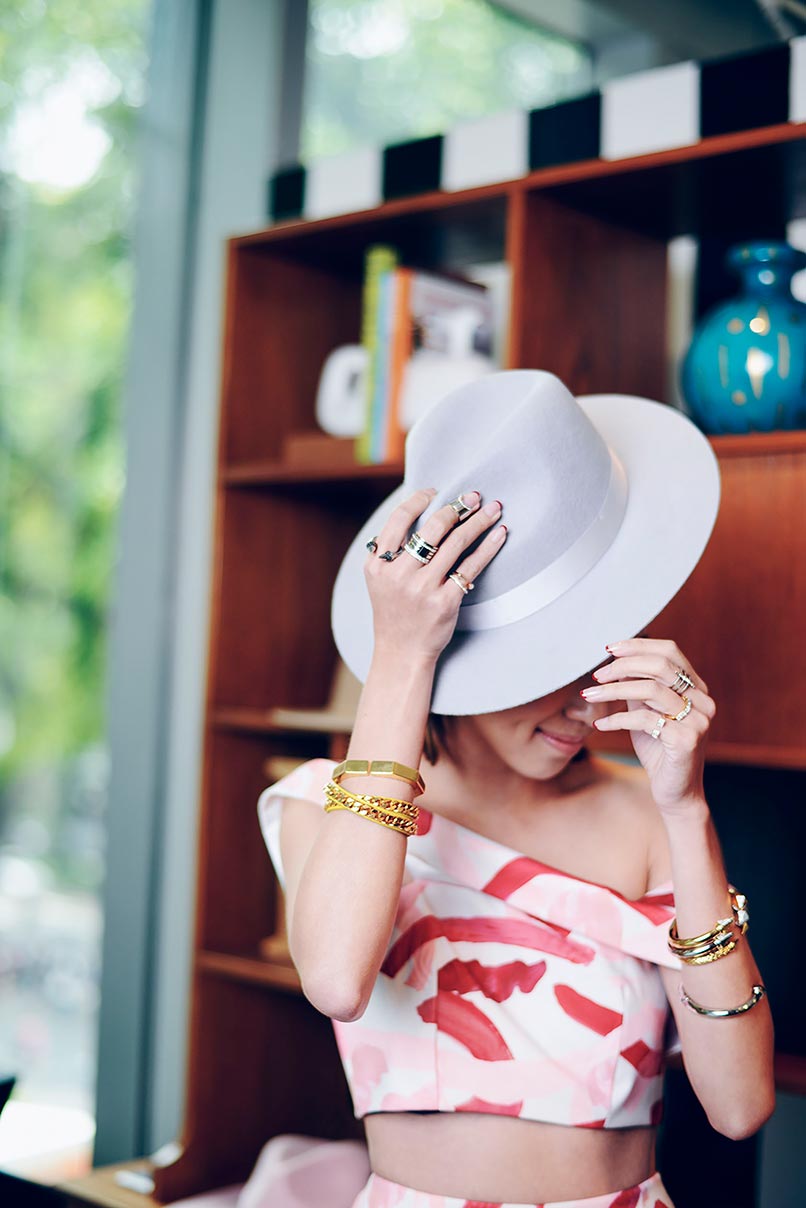 Who is Melissa C Koh, in three words?
A go-getter, inspirational and FUN.
Who inspires you, dead or alive?
Margaret Zhang, an Australian blogger who is multi-talented and is also a lawyer, ballerina and photographer as well.
What keeps you grounded?
My passion keeps me grounded, I love what I do and I enjoy exploring because it gives me a new perspective of things.
Friday nights are best spent…
In bed!
Describe your style?
I like things that are classic, elegant, with some whimsical edge to it because it is fun and quirky and it is easily relatable for my followers.
Favourite piece of clothing at the moment?
A pleated flare maxi skirt from my own label called Run After.
In terms of style, the today women is…
Confident and casual. The dress in what they feel comfortable in and also dare to experiment with new styles.
What is your colour of the moment?
Pink!
Black or white?
Depends on my mood. I like white because it is pure and clean and it is a blank canvas for me to play it up with accessories but I also like black because it is the go to colour for a sexy silhouette.
And my upcoming collection is very monotone with almost every design is leaning towards black and white.
Beach break or city escape?
I like both! But staying at a beach over a long time can be quite boring and I think Sydney is a great getaway for a perfect balance of both beach and city.
No makeup or no phone?
No phone.
Strong or sexy?
Sexy, because confidence makes a woman sexy
Heels or sneakers?
Sneakers.