Freshen Up Your Living Spaces With These Décor Trends
Renovating or re-decorating your living spaces can be a challenging and stressful experience. There is really no easy way getting around picking the perfect colour scheme, staying up to date with the latest décor trends, setting a comfortable budget and finding the right furniture.

The stakes are high because you are likely to spend most of your time at home. However, the payout is most worth it if you get it right the very first time. To help, we have rounded up our experts at Mandarin Gallery and Downtown Gallery to give you some insightful tips and advice on how to go about turning your home into a space you truly love.

The Renovation Matchmaker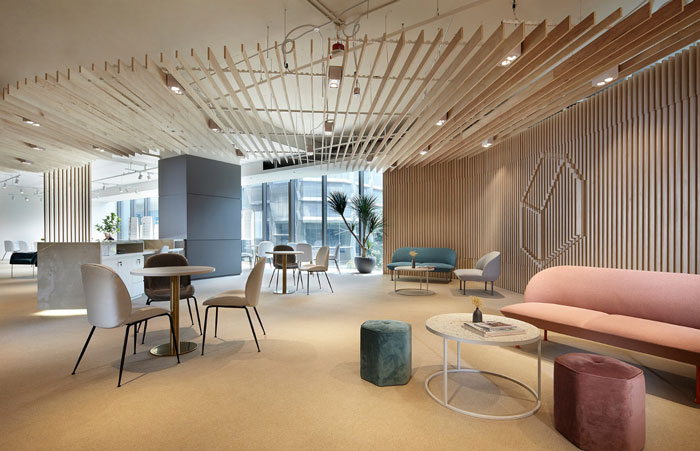 Qanvast, the go-to home renovation platform connecting homeowners with trusted interior designers might be the first step to finding one's happily ever after. Make it home with Qanvast - Whether it's a sanctuary nestled away from the hustle and bustle of city life, a party pad where the nights are always young, or a child-friendly crib to start a family, your dream home is now within reach. We sat down with an expert from Qanvast to find out more about how we go about turning dream homes into a reality.
1. With a gamut of popular interior design trends out there, where does one begin?
It is true that finding the right interior style or look for your home takes some work because of the myriad of ideas out there. But fret not, start by finding out your own preferences by through the home design galleries on Qanvast, and picking out what catches your eye or fits your space.
We suggest saving pictures you like into your mood board and bring them along when you meet your designer so that he/she has a better sense of the design you are looking at.
2. Home renovations are costly affairs. Any tips on how to go about it without breaking the bank?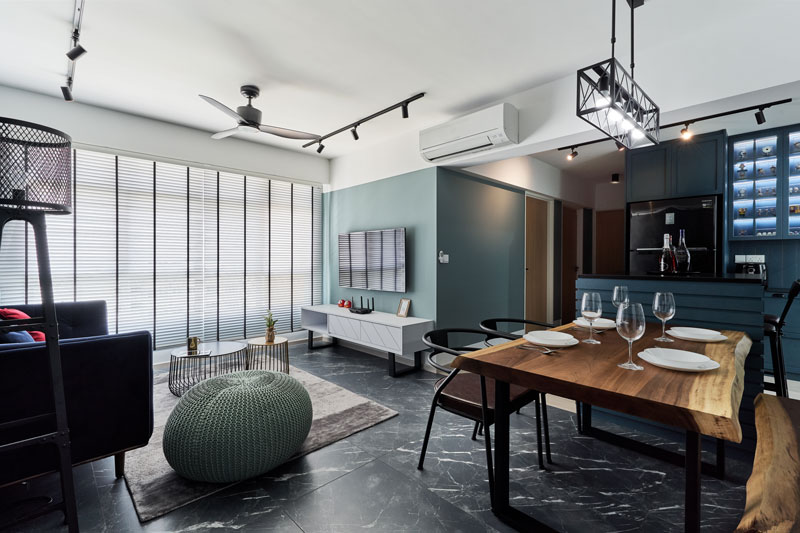 One need to first understand the main works such as carpentry and flooring works tend to form the bulk of the cost. If you are working on a tight budget, discuss with your designer and find out what's necessary to keep or trim from the quotation.
We recommend homeowners to set aside a 'rainy day' fund (about 15 – 20% of your renovation cost) on hand for unforeseen issues. For example, if you are renovating an older resale home, you may end up facing problems such as worn-out electrical wiring or leaky pipes, which will result in extra costs.
To get a better sense of your budget, check out the home galleries on Qanvast or try out the Renovation Calculator. When you are ready to renovate, seek for professional quotations to get a better idea of how much things will cost.
3. One of the common problems of living in a high-rise apartment is space constraints. How can we make our homes feel more spacious and trendy at the same time? Any furnishing tips for small spaces?
A foolproof way is to go open-concept, and try introducing vibrant colours and mirrors to brighten up your home.
As for outfitting small spaces, the easiest thing to do is to get modular or multi-purpose furniture pieces. Some examples include sofa-beds and drop-leaf tables that can 'shrink' as well as nesting tables which can be neatly tucked aside neatly when unused. And of course, size matters too – don't be too eager to get a long chaise when your living room only has enough space for a two-person loveseat.
To learn more about renovation, head over to https://qanvast.com/sg or find them at QANVAST@OUE (#02-09/10, Downtown Gallery).
---
The Furniture Atelier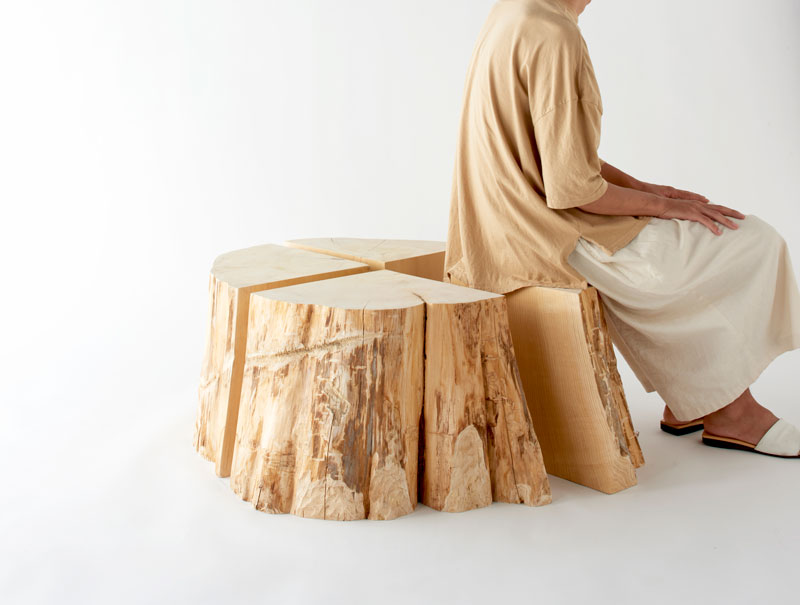 Even if you are not planning on an interior overhaul, a new piece of furniture can add new elements and introduce a different feeling of comfort to your living space. We spoke with the folks from furniture atelier, atomi, whose brands include atomi as well as ACTUS Hause by atomi, to find out their thoughts on some of the big décor trends in 2019 and how should homeowners furnish their space with pieces that are both modern and attractive yet functional.
1. Biophilic design has been touted as a hot new trend this year. Any tips for homeowners on how to incorporate this design to their living spaces?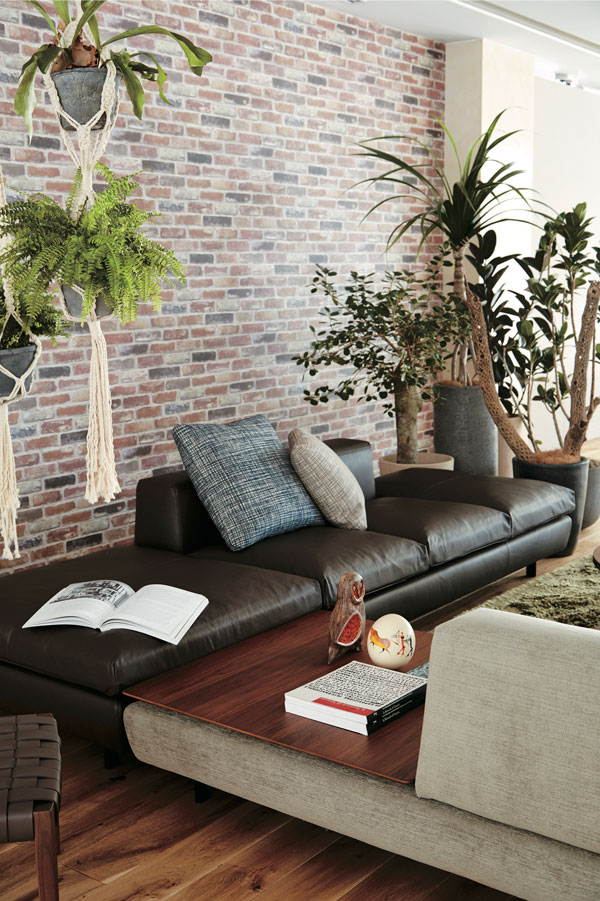 Our furniture is crafted based on the concept of timeless design and one that takes into consideration of being sustainable towards the environment. By choosing these furniture based on this concept, homeowners can create and foster a sense of natural connection with nature in their homes. Additionally, wooden designs can complement with various fabric or leather to create a living space that exudes biophilic character, and at the same time, look modern.
At atomi, we excel in furniture of pure Japanese design and quality. Our Hiba wood collection is most notable, especially in the area of biophilic design. The natural wooden scent of Hiba wood not only have deodourising properties but actually impacts the 4 out of the 5 senses: smell, sound, sight and touch. atomi is also known for clean lines and offers different finishes on our pieces to ensure that they are durable to last in Singapore's humid climate, while homeowners enjoy the beauty of natural wood.
At ACTUS Häuse, our furniture pieces bear more of a resemblance to Scandinavian designs. Expect clean lines, sleek forms and a sense of modernity in the collections, with raw wood surfaces and a focus on practicality. At the same time, what we have under the ACTUS brand retains the Japanese ethos of simplicity, honesty and quality. All in all, the biophilic design is well represented by ACTUS Häuse here in Singapore.
2. One of the common problems of living in a high-rise apartment is space constraints. How can we make our homes feel more spacious and trendy at the same time? Any furnishing tips for small spaces?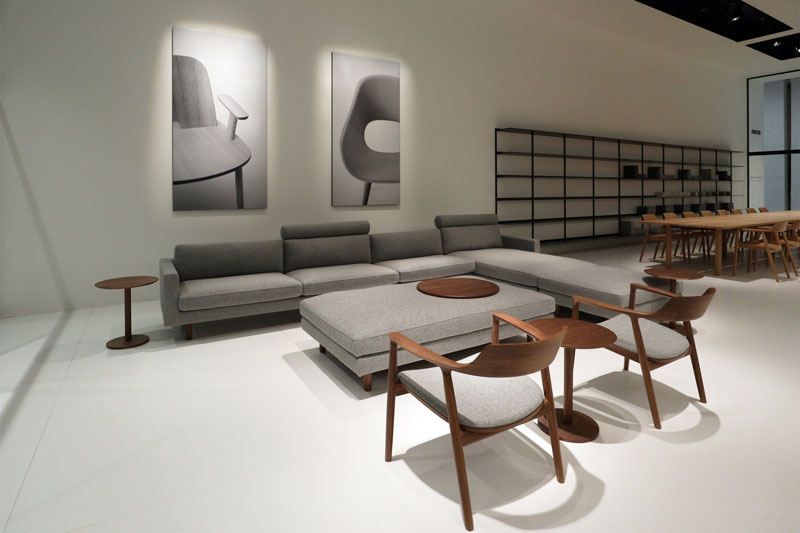 Most of our furniture are made and designed at a lower height because homes in Japan have lower ceilings and are smaller in size. This is due to the fact that the Japanese have the culture of not wearing shoes in their homes too. Besides, lowering one's gaze also has the effect of making a room feel more spacious.
Hand-in-hand with the biophilic trend are two complementary trends of minimalism and decluttering. With this in mind, consider picking furniture with sleek and simple lines with a multifunctional purpose such as beds with storage drawers underneath. Quality pieces with simple lines and ample storage space will also help to reduce clutter, which will free up more space in your rooms. And since less is always more, we strongly advise homeowners to mindfully furnish their living spaces with pieces they love to truly feel at home!
3. Any other furnishing tips or trends you would like to share?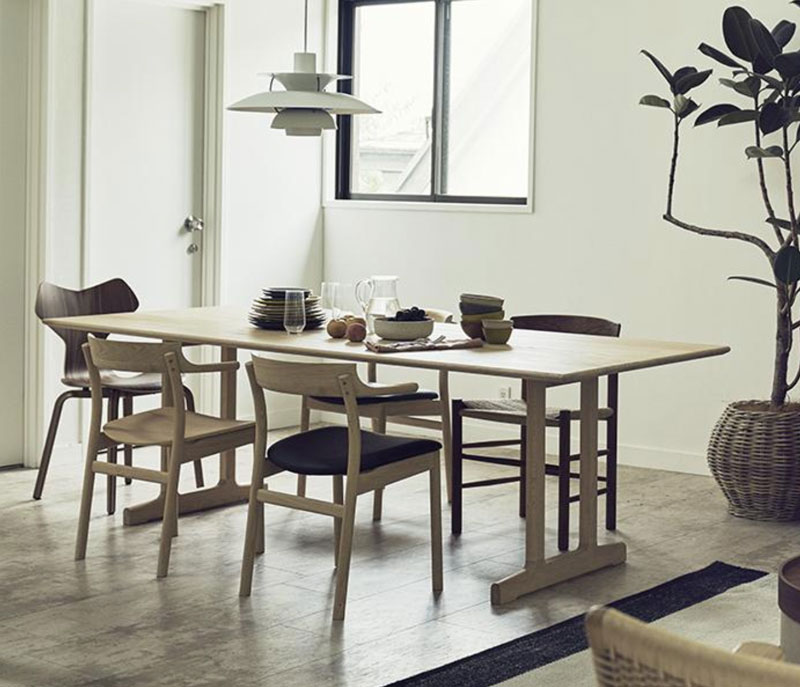 Recently, we've launched new furniture packages at ACTUS Häuse for studio, 3-room and 4-room apartments. Each package is curated specially to meet the needs of each apartment sized, with each piece picked to not only complement each other, but also any other pieces that homeowners might want to introduce to their living spaces in the future. It's a perfect solution for new or renovating houseowners. Another recent trend to note is the rise of the Japandi style, which combines the modern Scandinavian design with the elegance of Japanese styles to add a unique flair that helps to truly represent the individual in a home.
For more furniture inspiration, do check out atomi and ACTUS Häuse (#04-26/27 and #04-28, Mandarin Gallery) for more tips and lookbooks to incorporate this design trend!
---
Add A Breath Of Fresh Air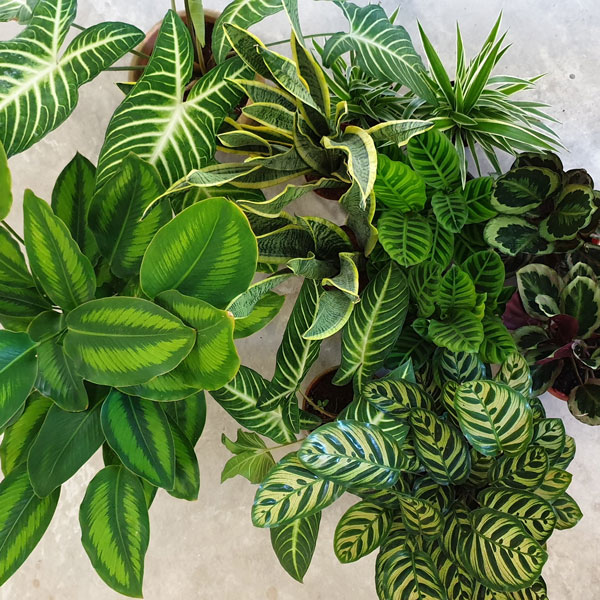 A quick way to instantly refresh your living spaces without breaking the bank is to introduce some greens and houseplants to your homes. Not only are they aesthetically pleasing, they are also good for your health. Houseplants essentially release oxygen and absorb carbon dioxide – this not only freshens up the air, but also eliminates harmful toxins. To help you with your indoor plant selection, we had a quick chat and crash course with Ricky from The Green Capsule to find out all there is to know about introducing plants to your homes.
1. Biophilic design has been touted as a hot new trend this year. Any tips for homeowners on how to introduce plants to indoor living spaces?
Biophilic is beyond just sustainability (which was a hot trend a few years ago). For sustainability, we are looking at maintaining an ecological balance. Biophilic builds on that and brings this to a whole new level of how we seek to connect ourselves to the natural environment. The biophilic design seeks for not just sustainability but also economic and health benefits. Of which, the best ingredient for Biophilic will be plants. Plants are the most fundamental entity on this earth that ensure the earth is in balance. They take in water and CO2, to produce clean air for the environment, they filter water through their roots, they help to moderate heat and provide shelter. They provide food for all species. Most medicines derive from certain parts of the plants such as Ivy (hedera helix) which is a cure for bronchitis back in the middle age. They are the best medicine and decoration one can offer for a living space.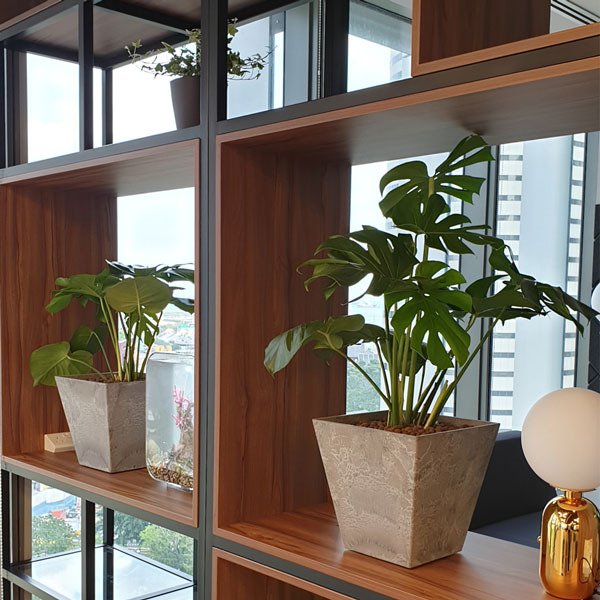 Before you wish to introduce plants, determine the light intensity, is it fully shaded or partial shaded or balcony with intense light? A rule of thumb, plants with darker leaves and thicker leaves tend to survive well indoor while flowering plants tend to survive well with full sunlight. Having said that, we need to ensure the ventilation of your living space. Is it naturally ventilated or artificially ventilated or most of the time the space is locked up with very little flow of air. Flowering plants, airplants will love naturally ventilated space while succulents and some ornamental plants such as Ficus Lyrata will survive even in an artificial ventilated space or very little airflow. Lastly, how willing are you able to feed it with water (all plants need water even for airplants!). If you can only commit to once a week, then I will suggest that you go for succulents or thicker foliage plants. If you are able to commit more than twice or thrice a week, then there's a bigger range of plants that you can go for. So 3 elements, Light, Air & Water.
2. What are the benefits of green living and having indoor plants?
As mentioned before, plants are one of the best decoration for a living space. Indoor plants help to improve air quality by reducing VOC (volatile organic compound such as heavy metals) by 80% to below 100ppb (recommended level), reduce carbon dioxide by 10-25% and carbon monoxide by up to 90%. Studies have shown that they lower health problems by 20-40%. They help to soften structures and add colours to your living space. They improve your company image by giving a perception of warm & welcoming. If you wish to bring your plants to a whole new level, you may even like to invest in growing organic herbs which you can harvest them for food.
3. From green walls to potted plants, what are some of the popular plants and plant features that would flourish indoors?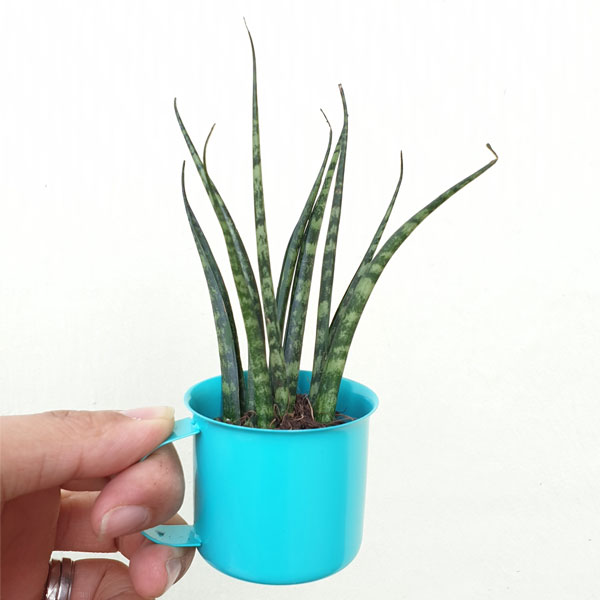 • For height and screening, I will recommend Ficus Lyrata (Fiddle Fig leaf), Monstera deliciosa on the pole, Rhapis multifida (Finger lady palm)
• For Ornamental Foliage and colours, Monstera delicisoa, Caladium spp (Elephant ear) or Calathea spp (Peacock Plant)
• For Indoor flowering plants (you will still need a bit of sunlight and ventilation), Spathiphllyum spp (Peace Lily), Anthurium spp (Flamingo Flower) or Begonia spp
• For Air purifying plants, Spathiphllyum spp (Peace Lily), Hedera Helix (Ivy) or Sanseviera (Mother-in-law's tongue)
• For smaller indoor plants, Fittonia spp, Pilea peperomiodies (Chinese Money Plant) or Succulents
• For those that don't have time to take care but yet still want plants, Epipremnum aureum (Money Plant), Zamioculcas spp (zz plant) or philodendron spp
• For Good luck and fortune Zamioculcas spp (zz plant), Crassula ovata (Jade plant) or Pachira aquatica (Money tree)
4. Any furnishing tips for small spaces?
For small space, we can't clutter it with lots of plants or it will look messy unless you are a plant lover who will trim the plants every now and then. Look for plants that don't grow out of proportion such as Fittonia, Sanseviera or Succulents like Echeveria or Pachira. You may like to go for variegated leaves or lighter green colours to bring out the character of the space. Having said that, a nice looking pot can help to amplify the beauty of the plant. Don't hang any characters on the branches or leaves as it will just mess up the whole plant. Keep it simple and sweet.
For more tips on indoor plants and customisation enquiries, visit The Green Capsule at #03-14, Downtown Gallery.