Essentials For The Intrepid Traveller
If travel more is on your to-do list for 2018, there's no better time than now to travel off the beaten path before the emerging destinations become popular tourist spots. While you explore the hidden corners of the world, we are firm believers of travelling effortlessly in style, whether you're trekking through lush forest trails in Colombia or exploring the old streets of Cuba. We have gathered a list of bags and accessories to accompany you as you navigate the complexities of adventure, in exotic locations around the world.

1. Ahwahnee Hiker

Get set for the Start of Your Next Adventure at Terrainware, an outdoor lifestyle boutique and experience destination that has everything the cool urbanite adventurer needs – be it an exciting expedition or a simple picnic. This Ahwahnee Hiker is inspired by lightweight hiking boots from the 1980s. This colourway is called "Firefall" as a tribute to Horsetail Falls which is a waterfall that looks like fire falling when lit up during sunsets in the back of Yosemite Valley.
Terrainware is located at Downtown Gallery, #02-05/06

2. Poler x Pendleton Poncho
What's better than donning a poncho to relax and warm up by the fireplace on a cold night in the woods? Do it in style with the Poler x Pendleton Jacquard Poncho collaboration. This Jacquard Poncho features Pendleton's signature pattern in Poler's custom color palette.
Terrainware is located at Downtown Gallery, #02-05/06

3. Poler 2 Man Tent – Wildlife Olive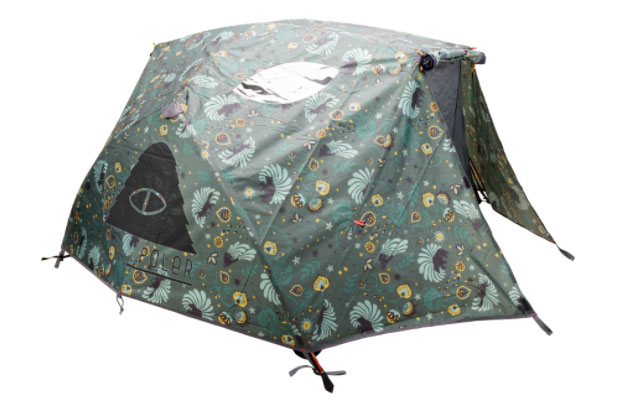 The Poler 2+ man camping tent has two doors and two vestibules for stashing all your camping gear and fully taped seams on the fly. If you've never set up tent before, fret not, as there is only one pole in this tent which snaps together, for simple and efficient setting up.
Terrainware is located at Downtown Gallery, #02-05/06

4. Leica Ultravid 10 X 32 Edition Hermes
Celebrating 111-years of excellence in Sport Optics, Leica has collaborated with Hermés to produce the very exclusive Ultravid HD-PLUS 'Edition Hermés' binoculars. These high-performing binoculars combine the latest Leica HD-PLUS optics with vintage style eyecups, to give the user the most natural color rendition and high spectrum of contrast mixed with traditional style and handling.
Leica is located at Mandarin Gallery, #01-18

5. Leica Sofort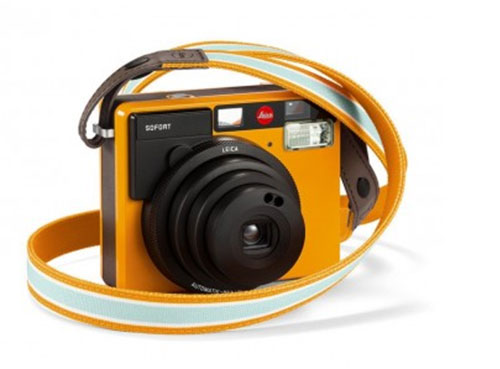 The Leica Sofort was created to capture life's magical moments, to transform them into lifelong memories you can relive over and over again. The perfect combination of style and functionality in the small and compact Leica Sofort makes it the ideal companion for fashion-conscious people who love photography. It comes in a choice of cool and contemporary colours – orange, mint and white. What's your colour?
Leica is located at Mandarin Gallery, #01-18

6. Geo Aluminum 3.0 Carry-On Spinner Luggage
Whether you're heading to the Swiss Alps or the tropics, investing in a standout and lightweight suitcase is a must. Cue the 4-Wheel Spinner Luggage from Zero Halliburton, which is engineered with TSA lock and utilizes premium Anodized Aluminium for optimum protection of your luggage's contents. Choose from a range of sizes, such as the 28" travel case or carry-on luggage.
Zero Halliburton is located at Mandarin Gallery, #02-19

7. Alponds Backpack

Where in the world will you go next? Consider investing in the ALPONDS backpack – a classic, durable pack that you can carry from a weekend gateway to your next epic road trip. Highlights of the bag: black metal zippers, lettering logo and diagonal prints design add a modern, edgy touch.
Samsonite is located at Mandarin Gallery, #02-18

8. Alpha 2 Double Expansion Travel Satchel Black

Let TUMI elevate your travel experience with the Alpha 2. This exceptionally strong travel satchel, made from TUMI's signature FXT ballistic nylon®, offers an expanded capacity you can maximize for packing when you need it. A front pocket allows for quick and easy access to key essentials on the go. It's the one to grab for a last-minute weekend getaway!
TUMI is located at Mandarin Gallery, #01-19

9. Samsonite LIPAULT Originale Plume Spinner

For girls-on-the-go, make sure you have everything you need packed into this stylish and sophisticated 4-wheel spinner suitcase. The elegant design and vibrant colour in Original Plume, is the perfect piece to complete your airport style. This ultra-lightweight luggage also comes with 360° multidirectional spinner wheels for easy manoeuvrability.
Samsonite is located at Mandarin Gallery, #02-18

10. Lipault Lady Plume Bowling Bag

Need a carry-on that is roomy enough to store all your in-flight essentials? The ultra-lightweight Lipault Lady Plume Bowling Bag M is made for housing all your favourite snacks, beauty products, gadgets and even an extra jacket or two. Plus, the vibrant red of the bag is also easy to spot in a crowd!
Samsonite is located at Mandarin Gallery, #02-18

11. TUMI Calais Leather Backpack Grey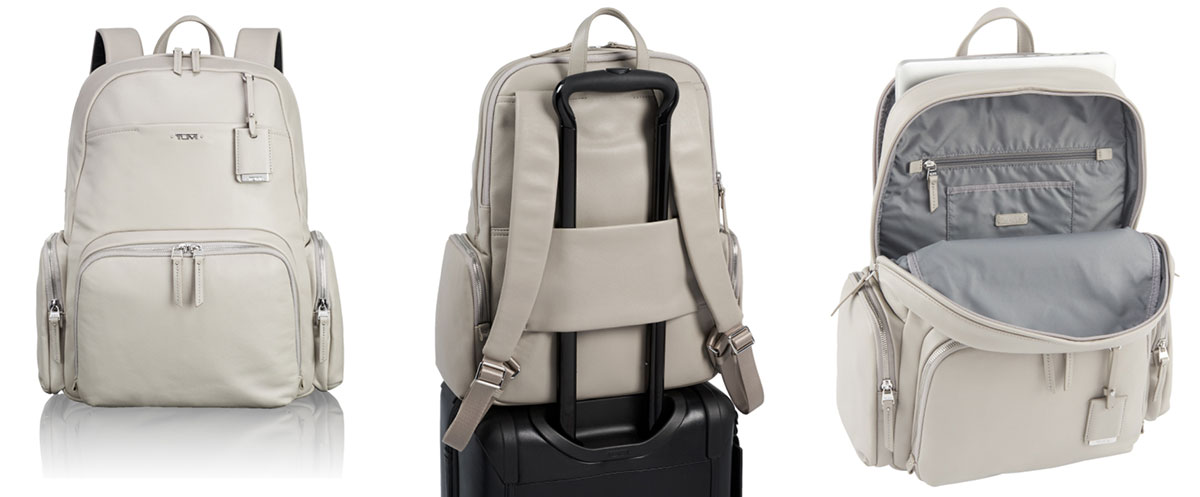 From TUMI's bestselling Voyageur collection, comes the limited-edition Calais Leather Backpack in luxurious pebbled leather for stylish women on the move. This backpack is all about fashion-meets function, with gleaming gold hardware and sleek lines featured alongside multifunctional pockets ideal for everyday adventures.
TUMI is located at Mandarin Gallery, #01-19

12. Rimowa Topas Stealth Beauty Case

Made of an aircraft-grade aluminium in a stylish matte black finish, the beauty case from Rimowa's Topas Stealth collection is a sight to behold. For the beauty junkie who can't travel without her entire collection of skincare and makeup, the case's interior features a transparent cosmetic compartment, mirror, and packing straps to keep beauty pots and potions secure.
Rimowa is located at Mandarin Gallery, #01-11