Easy ways to relax and recharge at home
Extreme humidity, the convenience of home delivery services and overcrowded streets are just a few of the several considerations that us, urban dwellers, think of when we are heading out for a night in town or for a weekend brunch with friends. So very often, this first-world deterrence adds to our everyday struggles to find a fair balance between social life and personal wellness.

Lucky for you, if you are a weekend introvert that prefers to stay within the confines of your own homes or a hyperactive extrovert that have too much pent-up energy to burn, we have rounded up the best tips and advice from our experts at Mandarin Gallery and Downtown Gallery to help you relax and recharge in just 30 minutes or less.

Find your Dosha balance with Veda Yoga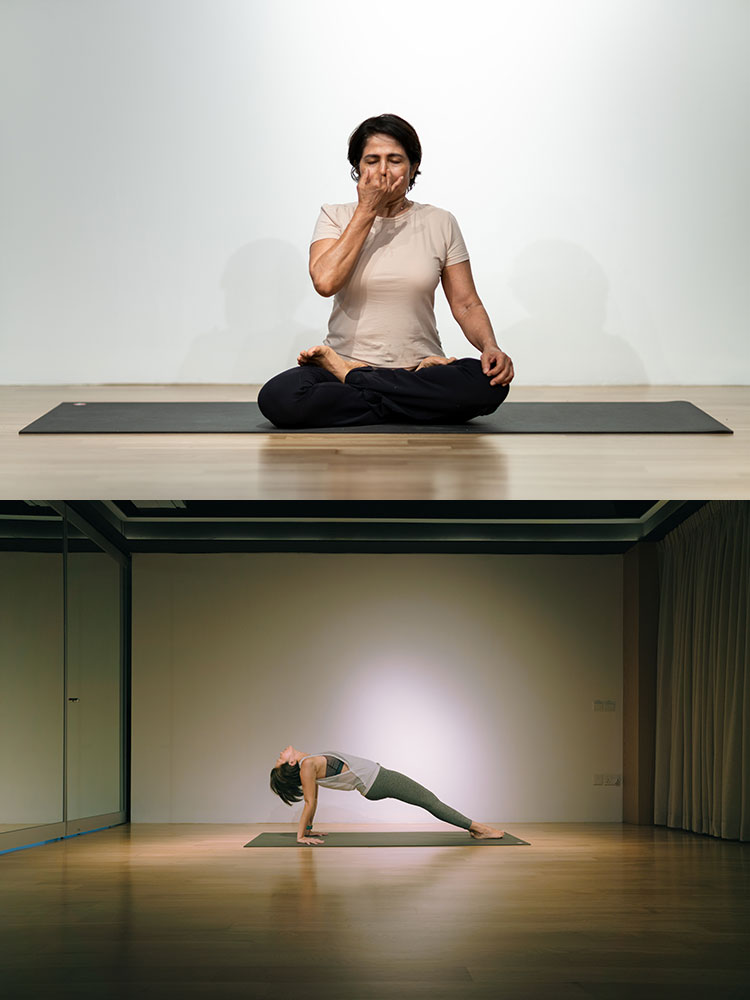 Yoga is perfectly designed for the modern-day busy lifestyles. The Veda Yoga total health concept focuses on delivering a holistic journey for the improvement of body and mind. By combining the ancient wisdom of Yoga and Ayurveda, they have developed a focused platform for fitness, nutrition and natural beauty, personalised to your requirements and balance. For urbanites who have trouble falling asleep at night and body aches from prolonged bad seating posture, here are some easy yoga poses Vedo Yoga recommends to help you reclaim your centre and clear your mind.
1. What are some easy yoga poses that one can do at home to relax and recharge their mind and body?
These are 2 poses that you can easily do at home. They are done in a supine position, so feel free to lie on a folded blanket or carpet if you feel that the floor is too hard. You may also wish to support your head with another folded blanket if your head is unable to rest comfortably on the floor. Both poses can be practiced daily.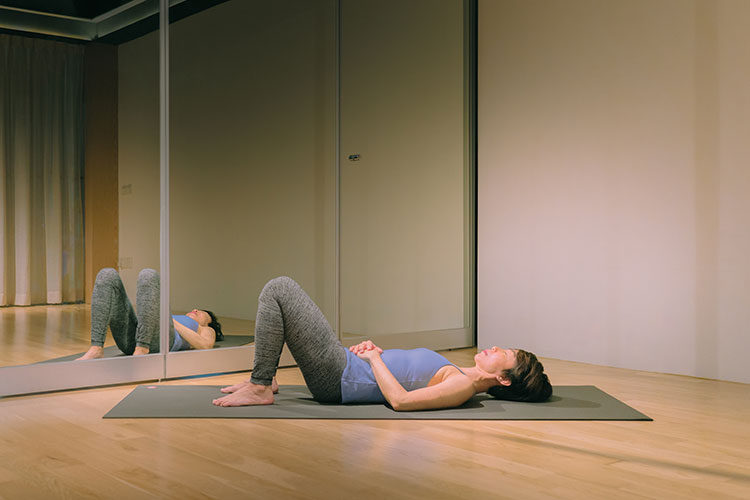 Name of This Pose: Constructive Rest/Savasana Variation with Bent Knees
How To Do This Pose:

• Lie on your back on the floor
• Bend both knees so that your feet are on the floor and hip-width apart
• Your weight is equally balanced between the balls and heels of your feet
• Slightly tuck your chin or support your head so that your forehead is slightly higher than your chin
• Place your arms in a comfortable position eg. palms resting on belly or both arms slightly out at the sides with palms facing upwards
• If you feel that the knees start to fall in/out and you have to use effort to keep them in that position, use a belt or strap to tie around the middle of the thighs
• Close your eyes and send your attention to your breathing; your mind quietens
• The hardest part of this pose is to relax into it; you may feel like you need to adjust or fidget as time goes on. See if you can let go and avoid these movements.
• Start with shorter durations eg 3-5 minutes and gradually build up to longer durations of 15-20 minutes

Benefits:

• Releases the psoas muscle
• Relaxes the lower back
• Calms the body and mind

Counter-indications:

This pose may not be suitable for those who have migraines, lower back or disc issues. Anyone who finds it difficult to breathe in this pose (including some pregnant women), may wish to avoid this pose. Do not do this pose if you feel discomfort or pain.
Name of This Pose: Supine Pigeon/Eye of the Needle/Thread The Needle/Figure Four
How To Do This Pose:

• Lie on your back on the floor or folded blanket
• Bend both knees so that your feet are on the floor and hip-distance apart
• Lifting the right foot, cross that ankle over the left thigh just above the left knee and flex your right foot
• Stage 1: Stay at this point if this already gives you a strong stretch at your outer right hip
• Stage 2: To go further, lift the left foot off the floor so that both legs move towards your chest
• Your right arm threads between both thighs while the left arm reaches forward from the outer left thigh. Both hands then clasp at the back of the left thigh
• As you draw your left leg in toward the left side of your body, work on having your right knee pressing away from you. This combination of actions should provide a stretching sensation at your outer right hip
• Keep your head and shoulders relaxed, not letting the shoulders lift to the ears. Lower back stays on the floor. The chin is slightly tucked.
• Hold the pose for 10-15 breaths
• Release and change to the other leg

Benefits:

• Stretches the outer hips, improving flexibility
• Releases lower back tension
• Improves circulation in the hips, lower back and lower body

Counter-indications:

This pose may not be suitable for those who have knee issues or sciatica. Anyone who finds it difficult to breathe in this pose (including some pregnant women), may wish to avoid this pose. Do not do this pose if you feel discomfort or pain.
2. We heard that yoga before bedtime helps you sleep better. Is this true and what would you recommend?
When you sleep the body repairs itself at a cellular level and gets rid of toxins. When you practice yoga, you are in touch with your breathing and your body. Simply by learning the art of breathing correctly that yoga entails, you are able to de-stress and unwind every single part of your body. Yoga has a deeply calming effect and helps you get rid of your sleeplessness or abnormal sleeping habits.

If you find yourself restlessly flipping through your phone or tossing and turning in bed, trying to put yourself to sleep, practise this simple routine daily before bedtime to enhance your sleeping:

• Sit comfortably with the spine erect
• Take a deep breath in and bring your awareness to the tight spots in your body
• Hold the breath in for a few moments and tighten the body as much as you can. Feel the tension dissolving into your breath
• Exhale through your mouth, consciously letting the tension leave your body
• Become aware of the changes within you
• Now bring your awareness to the emotions and thoughts which are not peaceful or harmonious. Breathe into them, feel them dissolve into the breath and let it go as you exhale deeply.

What is Ayurveda and how can people find out more?
Ayurveda is a five-thousand-year-old system of healing with origins in the Vedic culture of ancient India and is derived from the root words ayuh, meaning "life" and veda, meaning "science" or "sacred knowledge." Ayurveda emphasizes balance, prevention, and self-healing through personalised wellness solutions and 100% natural products.

The combination of Yoga Ayurveda offers a solution to modern health conditions and lifestyle disorders and is fast gaining popularity across the world under the message that the personal need of every individual should be to re-establish a state of perfect natural health.

The five elements of Ether(Space), Air, Fire, Water and Earth form the most basic building blocks of life in the universe. According to the ancient wisdom of Ayurveda, each of us is made of a particular combination of these five elements.

To understand our natural tendencies according to the elements helps to understand our strengths and weaknesses. As a sister science to Yoga, Ayurveda is important and delivers a blueprint for our health – a powerful tool to a healthy mind and body.

In Ayurveda, the combination of the five elements manifests as three life forces, or Doshas, known as:
• Vata • Pitta • Kapha

These three energetic forces help us to better understand ourselves and the world around us as they influence everything in nature and in us.

We're all made up of a unique combination of the three life forces, referred to as our unique Mind-Body constitution. Though everyone has some of each, most people tend to have the dominance of one or two of the doshas. Your dosha combination is determined at the moment of conception. By learning about your unique Mind-Body constitution and how the proportion of each of the three doshas may fluctuate as you move through life can equip you to rebalance to your naturally healthy self.
To learn more about Veda Yoga, visit them at #03-21/22, Downtown Gallery.

Scent to calm and relax from Flaming Queen
The right scent can go a long way, especially when you are creating your own urban oasis at home. To help you find and select the perfect scent, read on to find out what the experts from Flaming Queen recommend.
1. Any tips and tricks for creating the ultimate home oasis?
Tips/tricks: Place 2 diffusers in opposite sides of the living room to thoroughly diffuse the scent…

To liven up your living room, consider placing fragrances of floral or fruity tone. You can also enchant your senses with the Baobab Collection – Feathers Touareg's fresh notes of mint and jasmine reminiscent of Africa or opt for a lively fragrance of grapefruit and cassis with Dr. Vranjes – Pompelmo Cassis to balance the mood.
2. From scented candles and reed diffusers to incense sticks and room sprays, what are some of your top picks and why?
Tips/tricks: Citrus-based fragrances such as red grape, Ceylon cinnamon and orange help dissipate food odours.

Consider the space and its usage when selecting the scent. If your space is generally used for catch-up sessions over meals, we recommend steering clear of overpowering scents that can mask food aromas.

To help purify the air, consider fruity aromas of cocktails with notes of bergamot and jasmine in Dr. Vranjes – Bellini, or reduce feelings of anxiety with Dr. Vranjes – Arancio & UVA Rossa defined by energising notes of bitter orange and birch.
3. Besides picking out the right scent, what else would you recommend to shoppers to help them relax and recharge at home?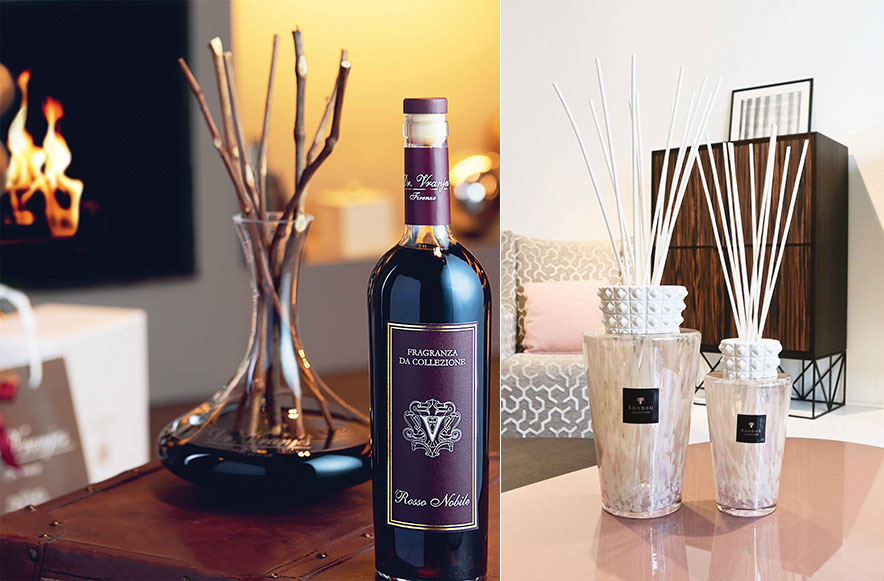 Tips/tricks: Choose a diffuser that reflects your personal style that can double up as an ornament

Jazz up your home office for a boost of efficiency with an elegant diffuser that not only smells great but looks great. Create the perfect ambience for de-stressing with the sweet aroma of orange, violet and magnolia inspired by Tuscan wines in Dr. Vranjes – Rosso Nobile or you may opt for an intense, elegant fragrance of Neroli, using Dr. Vranjes – Oud Nobile's precious notes of agarwood with hints of Mediterranean orange blossom and bergamot, or let the warm scent of amber and rum permeate with Baobab Collection – Feathers Masaai.
For more recommendations, visit Flaming Queenat #02-31/32, Mandarin Gallery.

Glow with Bud Cosmetics
For the ultimate glow-up, try these fuss-free pampering treatments recommended by Bud Cosmetics to help you relax and recharge in the comfort of your own homes. More importantly, all products are certified organic, which are great for people who are sensitive to skincare products with chemicals and preservatives.
1. What are your recommendations for a refreshing and rejuvenating DIY home spa?
Luxurious spa treatments can be achieved easily at home these days with the availability of beautiful and high-quality products, in particular, premium body scrubs and body massage oils. A body scrub is always the perfect start to rejuvenation as it stimulates body circulation and the body's detox process.
The Organic Pharmacy's Cleopatra Body Scrub
6-star hotel spa treatment right at your own home! A luxurious sugar and salt scrub offered in many spas of many exclusive luxury hotels that will remove dead skin, detoxify and moisturise all at the same time. Leaves the skin super soft and polished to perfection. A totally luxurious experience with rose petals and delicious floral scent of Ylang Ylang and pampering Rose. Tip: Works as bath soak too! After scrubbing, instead of rinsing off, simply soak in the bathtub.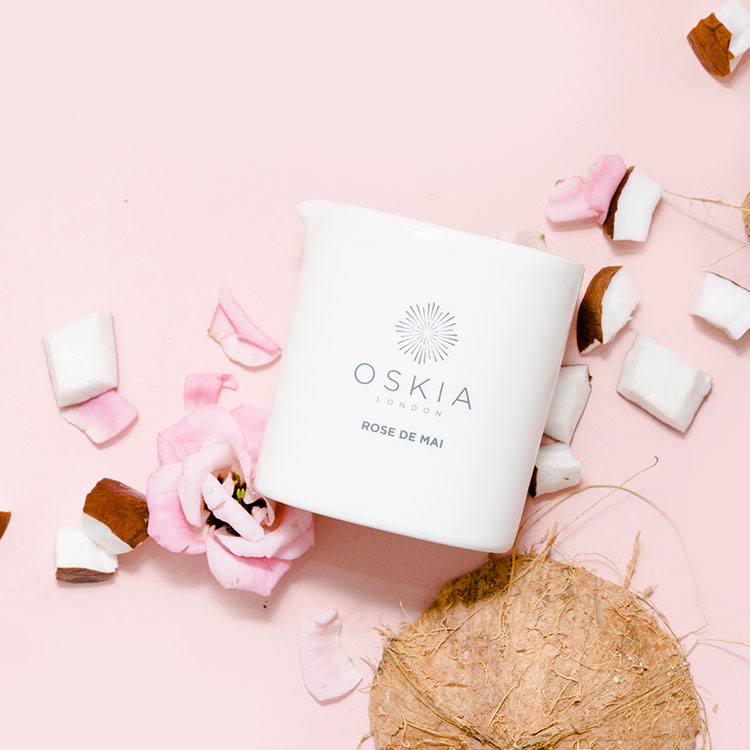 OSKIA Rose De Mai Massage Candle
Made using the finest May Rose, nourishing soya & coconut oil for smoother, softer skin and smells of roses from dusk 'til dawn! This luxurious treatment and massage candle is packed full of skin smoothing omegas, vitamins and minerals and is the ultimate way to soften, smooth and soothe both body and soul.

Light the wick and once melted, simply pour the delicate warm oil directly onto your skin to nourish, soften and hydrate, while the beautiful natural fragrance engages the senses and leaves your skin beautifully scented. Ideal for couples' therapy!
2. From scented candles and reed diffusers to incense sticks and room sprays, what are some of your top picks and why?
A well-chosen room scent will uplift the ambience and enhance the mood and emotions. A familiar fragrance may elicit beautiful memories of a place you've been or a special experience. Our human bodies respond better to the aroma-therapeutic effects of natural oils and hence its important to choose room fragrances made of pure and natural essential oils. For a relaxing time at home, go for comforting and relaxing oils such as Lavender, Sandalwood or Geranium. And if you'd prefer something more energizing or uplifting, go for citrus oils such as Grapefruit and Lemongrass, or refreshing oils such as Peppermint or Mandarin.

Reed Diffusers are great for the soft welcoming background scent in the room 24/7, but when you want a burst of mood enhancers, go for scented candles to turn up the notch, and romance.
Myrtle and Moss Rose Geranium, Grapefruit & Clary Sage Soy Wax
The subtle Rose Geranium botanical notes blended with crisp Grapefruit and sweetly herbaceous Clary Sage will uplift you and create a relaxing feeling reminiscent of a day spa. Made with pure Soy Wax, you can light the candle with a peace of mind as it does not release any chemical toxins or pollutants in the home.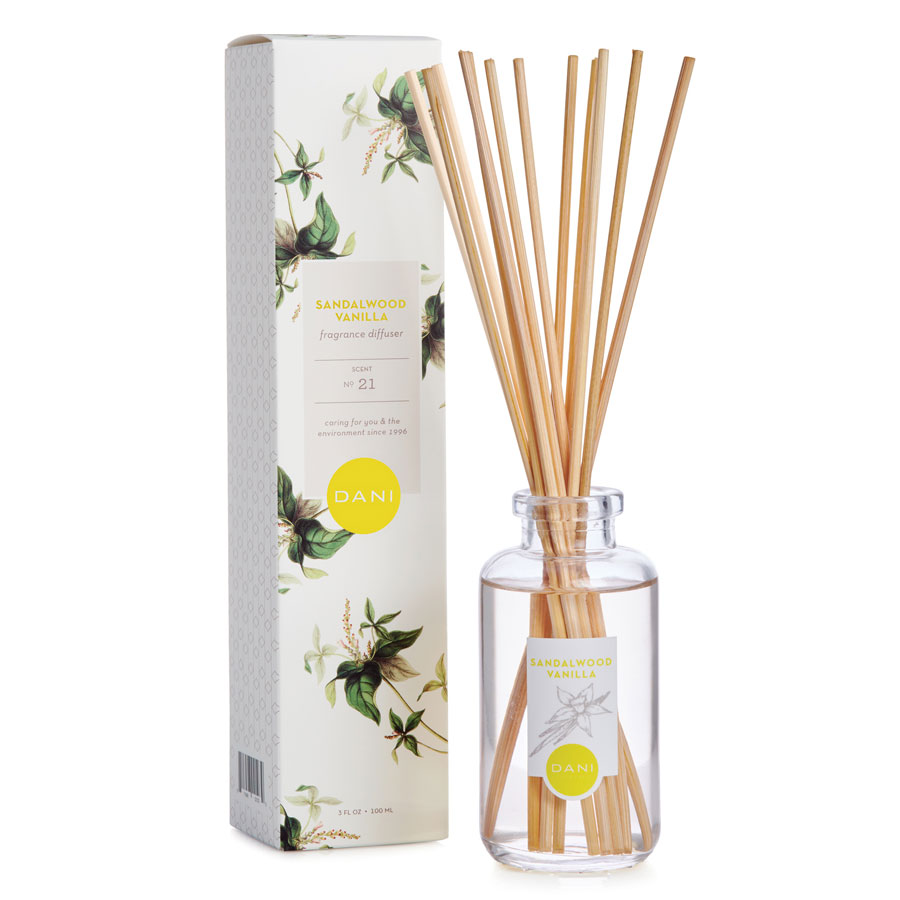 Dani Sandalwood and Vanilla Reed Diffuser
A flame-free way to infuse your home with a luxurious comforting scent. This alcohol-free scent combines warm woodsy notes of sandalwood with the soft, creamy notes of natural vanilla to create an aroma that is rich and inviting.
3. Besides a luxurious pampering and picking out the right scent, what else would you recommend to shoppers to help them relax and recharge at home?
We can't forget the face and eyes when it comes to a quick recharge at home! Especially so when we spend so much time in front of computers or looking at our mobile phones, our eyes area is strained with fatigue and dehydrated.
Maya Chia's The Refresh Mint Mask
Perfect for a rejuvenating and effective treatment to bring back the glow and clarity of the skin! The Refresh Mint Resurfacing Moisture Mask is a concentrated, innovative formula that works gently – yet effectively – to transform a lacklustre complexion into glowing, radiant and nourished skin. The magic behind the brilliant minty-blue mask is a combination of four different types of acids, as well as enzymes and hydration, which synergistically work together to resurface, brighten and moisturize the skin. (see more details below)

It will be a breath of fresh air for your skin – or what we call The Refresh Mint.
100% Pure's Bright Eyes Gel Masks
Highly caffeinated eye masks designed to brighten, de-puff, and refresh your eye area. These extremely hydrating masks use a thirst-quenching blend of cucumber, hyaluronic acid, and aloe juice to replenish dehydrated skin cells. The "hydrogel" mask material is composed of 95% organic aloe juice and 5% plant cellulose, to intensely quench and soothe skin. The hydrogel material will thin as you wear it, as hydration is literally transferred from the mask into your skin. This innovative hydrogel technology assists in delivering active ingredients, and aids in nutrient absorption for more targeted skin nourishment.
For more recommendations, visit Bud Cosmetics at #03-32, Mandarin Gallery.

Spin into Pilates with Upside Motion
Pilates is more than just an ordinary workout and if you are a practitioner, you would know that it not only sculpts your body but it also clears your mind and gives you energy and inner serenity. To help you get started, here's an easy Pilates routine that you can try at home for relaxation and stress relief, recommended by the good folks at Upside Motion.
1. Does Pilates help you to relax? What are the benefits of Pilates?
In this busy modern society, we often encounter stressful situations, and our bodies respond to stress with various symptoms, such as chronic pain caused by muscle tension or migraine, sleep and eating disorders, and even immune system disorder.

As we all know, physical activities help pump up the production of endorphins that makes your brain feel happy and relieve stress. Pilates can also help relieve stress and tension by deep and attentive breathing and mindful movement.

Many people don't breathe properly, breathing shallow with chest and shoulders which will give them more tensions on the body. Joseph H. Pilates, the founder of Pilates, emphasized deep breathing focusing the diaphragm and the rib movement. By exhaling fully to let toxins and waste out of your lungs, you can allow abundant fresh oxygen and nutrients come into every cell. This will enhance blood circulation, lower your heart rate, regulate blood pressure, and help you relax. Deep breathing requires concentration. Being attentive to the subtle movements of the body while breathing will clear and calm your mind.
2. What's an easy Pilates routine that one can do at home for relaxation and stress relief?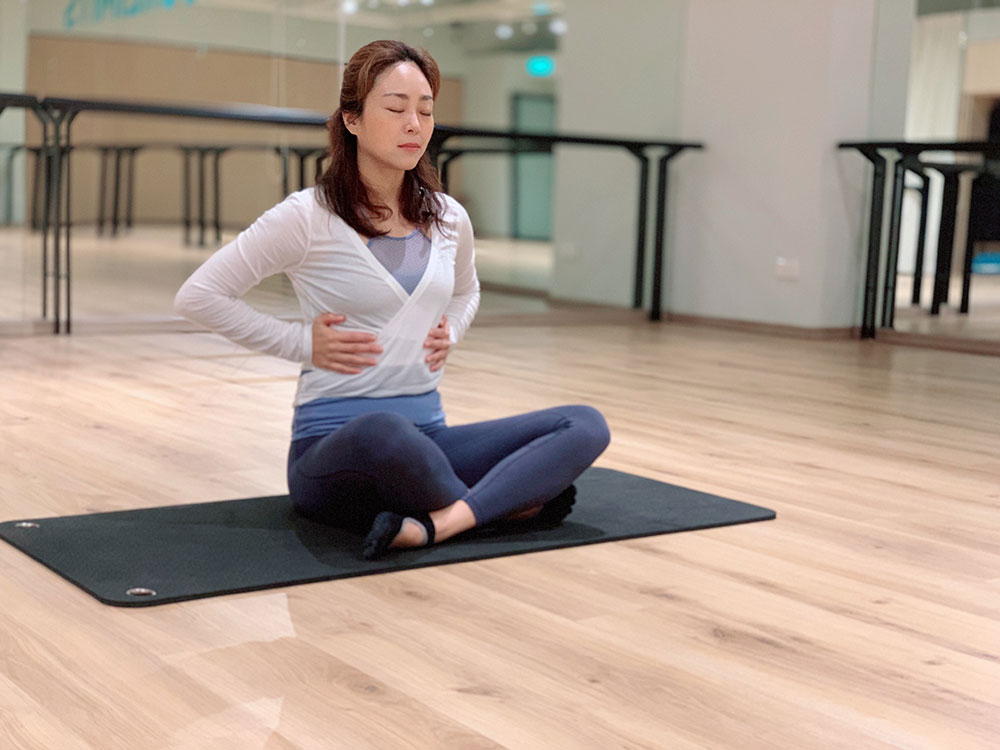 Deep breathing: Close your eyes and put your hands on the side of your ribs. Feel your ribs move and feel your lungs fill up and empty.
Hip rolls: lie on a mat and with the breath, start to peel your spine off and rolls it back down on the mat. Focusing on moving one vertebra at a time.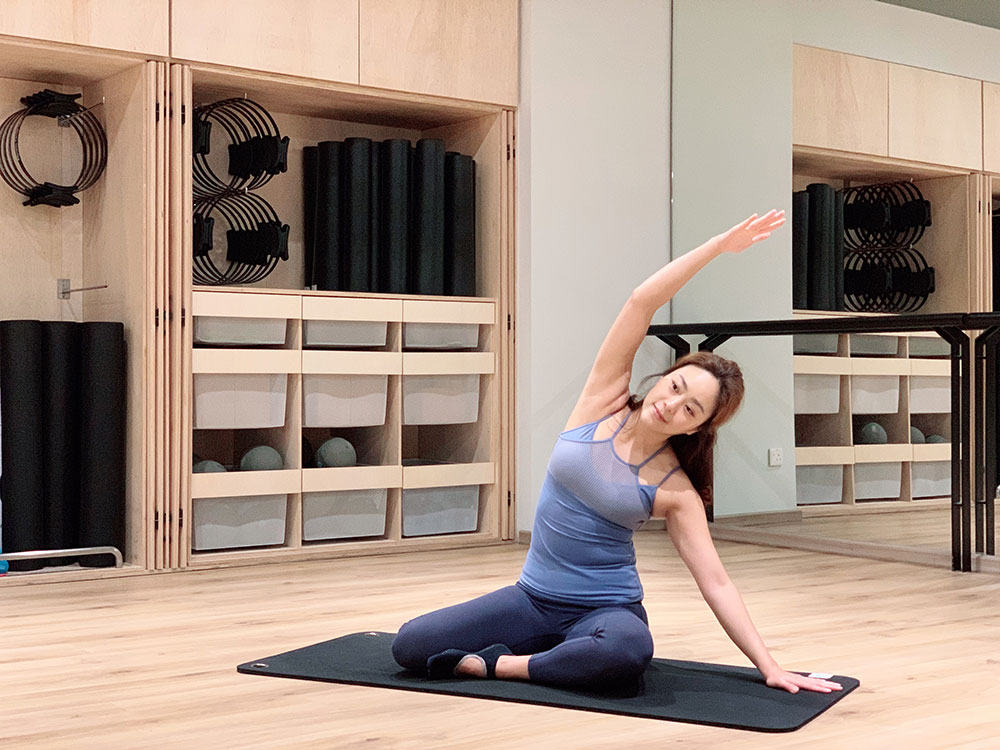 Mermaid: This exercise will give you a great stretch, lengthening and opening the side of the body. You can practice deep breathing feeling the side of your rib opens with inhaling and close with exhaling.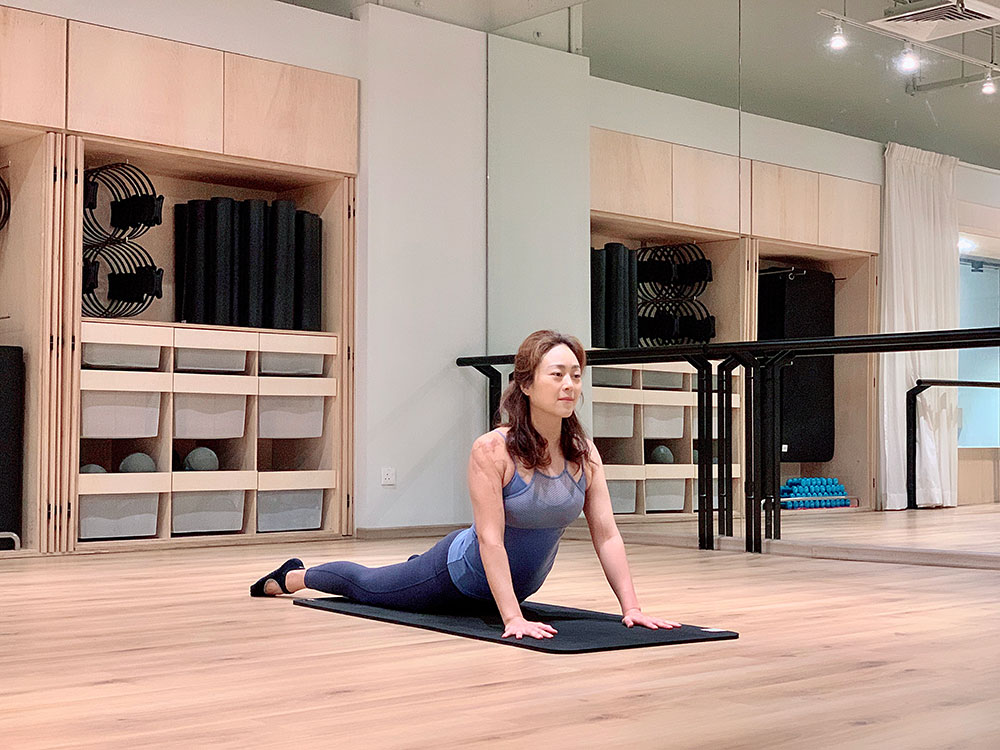 Swan Dive: This exercise gives a good stretch on the front of your body, lengthening the abdomen, hip flexors, neck and chest. After sitting at a desk for 8 hours each day looking into a monitor, we do need this. It also strengthens glutes, back extensors, and arm muscles.
3. How and where can one get started with Pilates?
Upside Motion recommends beginners to take Pilates classes at least twice a week. It is strongly recommended to choose a studio with certified Pilates instructors. Developing a consistent routine allows the instructors to help you progress in your practice safely and efficiently by giving you detailed guidelines about the exercises and modifications according to your body conditions. Always consult with your physician before starting any exercise program if you have any prior pain or injury.

Upside Motion offers both group and private Pilates classes, and you can also choose to have either reformer or mat Pilates classes. Upside Motion Shenton studio is located at B1-02, Downtown Gallery.