A Woman In Men's Shoes
The #ladyboss behind VINCiTORE Shoes has come a long way. In the luxury men's footwear business with her father since she was 18, Nita Chauhan revived her family's shoe business with VINCiTORE. At VINCiTORE, every shoe is designed by Nita, then painstakingly handcrafted in a family-run workshop in Rome.
We spoke with Nita to find out where she gets her inspirations from, men's shoe trends and more.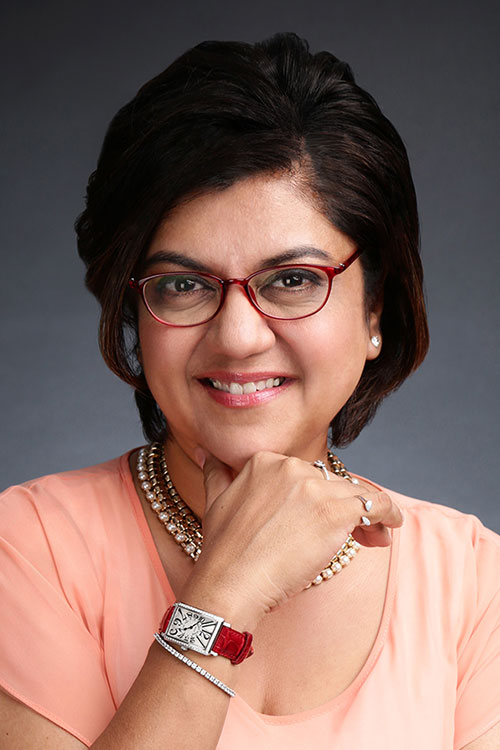 3. As a designer in such a niche industry, what were some of the difficulties you faced and how did you overcome it?
My greatest challenge was to find the right manufacturer who would be able to understand and create my designs. Fortunately, my Diploma in Shoe Constructions and Designs, equipped me with the skills that enabled me to work closely with the artisans in Italy to make the appropriate adjustments for shoes designed with the Asian man in mind.
4. In your opinion, what are some of the biggest trends in men's shoes and what will always be considered a classic?
There is not one single trend that stands out. These days, men have the option to customize their shoes. This means that they are able to create the trendiest shoes for themselves.
While many people may think black shoes to be a classic look, the true classic is a nice pristine pair of burgundy shoes.
7. Tell us more about the brand and its USP.
Our shoes are designed with the Asian Man in mind, this would mean that Asian men can now buy shoes in their own size. In most cases, Asian Men would find themselves buying a size or two larger when purchasing a pair of shoes modeled after the European Foot, which is slimmer in cut. This would then cause the "crocodile tip" phenomenon in which the tip of the shoe would curl upwards and stick out like a crocodile's nose.
To cater to people with larger shoe sizes, we also carry larger sizes, up to size 46, which is up to US 13 or UK 12. For larger sizes, we also offer customized sizing options.
1. Firstly, how does it feel to be a female designer in a world of men's shoes?
It feels great to be one of the few women in a world of men's shoes and it's really a dream come true!
2. How did you get into the business of shoes?
For almost two decades, my father helmed a successful luxury shoe business, Euro Shoes. Right after college, I naturally joined him in the business of luxury shoes. We had outlets in Marco Polo Hotel and Centrepoint, carrying brands such as Bally of Switzerlandand a.testoni as well as Moreschi.
Following his passing, my family came to the difficult decision of closing both stores. But, in 2015, after 15 years, my family heritage and passion caught up with me. I decided to pick up skills on shoe design and construction and it proved to be the happiest time of my life.
With the support of my husband, I took the leap to breathe new life into my family business with VINCiTORE.
5. Where do you get your inspiration from?
At Vincitore, we take inspiration from a well-dressed man, including his choice of outfit and complementary choice of shoes.
6. Talk us through your design process.
My designs really start with my interactions with customers. It's important to listen to them and gain valuable insights into what they look for in a pair of shoes and take inspiration from their recommendations. Other than that, I also take inspiration from the texture, colour and fabric combinations creatively incorporated in ladies' fashion.
At VINCiTORE, we are convinced that we are much more than just a shoe store. We are in the business of service. Taking heed from my father, we take pride in the service we provide. We don't try to sell our customers just any pair of shoe, we believe in educating our customers on selecting the right pair of shoe for him, his lifestyle, his personality and his style.
Visit VINCiTORE Shoes at #01-18A!